Sekra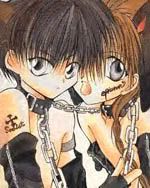 Name: Sekra
Country/State: Australia
Your birthday: March 10th
Favorite color: Black, Red, Gray
Favorite all-time song/band: Korn, Marilyn Manson, Tool
Favorite Restaurant: Chinese
Favorite anime/cartoon: Gundam Wing, Berserk, Lain
Favorite Fic: Asuka's 'Garou', Akuma's 'Cross My Heart', and Amanda 02's 'Scar Tissue'.
How does getting feedback make you feel: I love it. Makes me feel like I'm walking on Cloud 9...
Anything you want to add/shout-outs: Um... I don't think so. 'Cept I'm the Mambe pixie leader! Queen of the cha cha cha fairies!



Aishiteru Deathfic (suicide), angst, Heero POV
Alone Language, angst, minor self-mutilation, POV, TWT, author's random acts of insanity
Conversations of Snow Shounen ai, angst, sap, language, me eating peanuts (Yes, this is a warning. Because if I choke you're going to have to save my ass)
Deep Inside Shounen ai, Duo POV, angst, sap.
Fading Thoughts DEATH FIC!! - suicide, shounen ai, erm.... like, one naughty word, I think that's it.